44 per cent of workers have gained weight on the job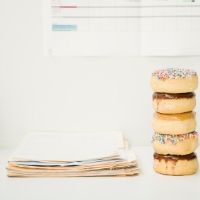 It's happened to most of us, especially desk-bound workers. We're at work and feeling as if we've been snacking all day. A handful of candy here and a bag of chips there don't seem like a lot, but they add up, especially when it comes to the numbers on the scale.
At least we're not alone. Forty-four per cent of workers said that they gained weight at their current job, according to a new CareerBuilder survey of U.S. workers. The No. 1 culprit? That darn desk.
Fifty-four per cent of respondents attributed their weight gain to sitting at their desk most of the day, and roughly the same amount -- fifty-six per cent -- stated they eat their lunch there as well.
Other culprits causing extra inches around the waistline include:


Stress-related eating -- 37 per cent


Eating out regularly -- 23 per cent


Skipping meals because of time constraints -- 19 per cent


Workplace celebrations (potlucks, birthdays) -- 18 per cent


The temptation of the office candy jar -- 16 per cent


Pressure to eat food that co-workers bring in -- 10 per cent


Jobs that put on the pounds
Certain occupations have a higher incidence of workers reporting weight gain, due to either sedentary or high-stress positions, such as:


Travel agent


Attorney/judge


Teacher


Protective services (police, firefighter)


Marketing/public-relations professional


Information technology professional


Losing the weight
Have no fear. You can do plenty of things to avoid workplace "snackery." Don't be afraid to just say no. Don't feel pressured to snack, and tell others that you're looking to avoid any extra calories. Also, as the urge to eat takes over, step back and ask yourself, "Am I really hungry? Or am I stressed or tired?" You'll stop yourself from eating without thinking.
Here are five tips to help eliminate those extra calories and keep the weight off all year:
1. Get to steppin'. Incorporate more walking or stair climbing into your day. Avoid the elevator, or walk over to a co-worker's desk instead of sending an email. Get off at an earlier train or bus stop -- especially on a gorgeous summer day -- and walk to the office.
2. More fruits and veggies for snacks. Snacking can seem innocent when done in small bits and pieces, but the extra calories will start to add up quickly. Keep plenty of veggies and fruits in the office fridge so you have a more healthful choice on hand.
3. Pack your lunch. Bringing your lunch to work helps you better control your portions and saves you money.
4. Choose water. Drink water throughout the day instead of caffeinated drinks or juices. This makes you feel fuller faster and cuts down on the calories.
5. Sneak in some exercise. Take daily walks with a co-worker, replace your chair with an exercise ball for part of the day, and keep free weights at your desk -- all quick and easy solutions to help stay fit and trim.
"More and more companies are implementing healthy-living initiatives in the workplace," says Rosemary Haefner, vice president of human resources at CareerBuilder. "Twenty-eight per cent of companies provide gym passes, workout facilities or wellness benefits for their employees, but only 10 per cent of workers say they take advantage of the benefit. It's important to tap into those resources to stay healthy and energized and potentially more productive."
The study, conducted by Harris Interactive from Feb. 9 to March 2, 2012, included more than 5,700 U.S. workers across industries.
Job Recommendations
Featured Employers